Velvet
Talk

6
132pages on
this wiki
♦ Velvet ♦
Velvet, the Witch of Elrit
Titles
The Witch of Elrit
Kingdomless Princess
Odin's Illigitimate Daughter
Relatives
King Valentine (grandfather)
Odin (father)
Gwendolyn (half-sister)
Griselda (half-sister)
Ingway (brother)
Princess Ariel (mother)
Affiliations
Cornelius (love Interest),
The Pookas (loyal subjects)
Gender
Female
Race
Valentinian
Homeland
The Kingdom of Valentine
Profession
Princess
Forest Witch
Savior
Abilities/Powers
Skilled in using the Graveryl,
Knowledge of numerous magics and alchemy,
Expert Acrobat
Weapon
Graveryl
Voice Actor
Michelle Ruff
Seiyū
Miyuki Sawashiro
"Ingway! Please, don't use that secret magic!"
-Velvet pleaded with Ingway when he is about to transform into Darkova
Velvet would be the princess of Valentine, and is the granddaughter of the mad King Valentine. She is the twin of Ingway and daughter of Princess Ariel and Demon Lord Odin. She is Odin's first born daughter and the older half-sister of Griselda and Gwendolyn
Personality
Edit
Velvet is described to be a very serious and independent young woman with a lot of issues, but only because she has gone through a lot of problems in her life as an outcast to both her grandfather and initially her whole nation when the people of Valentine heard that she and her brother were the children of the enemy. But, despite all of these troubles, she tends to be a sweet, kind and even motherly woman. She is also very determined to succeed in her goal to prevent Armageddon and save all of Erion. She has a deep hatred for her father, the Demon Lord, because she believed that he left her, her brother Ingway and their mother; and that he did not care if they all were to be killed by her grandfather. She also denies that he loved or even cared about them, saying that if he did love them he would have done something to prevent her mother's death, or at least save her and Ingway from a life of suffering under their grandfather.
She has a great fear of her grandfather despite him being dead and even believed that he would return (which, to her horror, indeed happened). This is because when she was young he used to torture her and Ingway by whipping them (although Ingway said that Velvet was whipped more times than him). Her fear of him causes her to even still obey him despite knowing what he is planning. Throughout her life she has been haunted by the choice she and Ingway made: to reject their mother in front of their grandfather in order to live; and believed that by being tortured by King Valentine, and accepting the curse in the last letter their mother wrote to them, was the only way to earn her forgiveness.
When she first met Cornelius and fell in love with him, she found new hope and meaning in her life, giving her a reason to want to prevent Armageddon from occurring. She continues to love him despite him being turned into a Pooka, and helps in finding away to return him and her people back to their human forms. She also cares for her brother Ingway (despite his tendency to betray her) and her half-sister Gwendolyn, who is actually jealous of Velvet being the most loved daughter and child of their father, while Velvet is jealous of Gwendolyn herself, thinking that she is Odin's most beloved daughter. But despite the two women's initial dislike of each other, Gwendolyn helped Velvet once to escape fom being executed by General Brigan who was blackmailing Odin, because she knew that their father would be heartbroken if Velvet were to die. This then causes Velvet to worry for Gwendolyn and makes her accept Gwendolyn as her younger sister. She also became even more furious at Odin when he exiled Gwendolyn and placed a sleeping spell on her when she saved Velvet from being killed.
Alignment
Edit
Velvet is under or between both the Chaotic Good and Lawful Neutral alignment through out the whole game. But she is more of someone who is under the Lawful Good alignment.
Appearance
Edit
Velvet wears a revealing outfit - she contains her hair in a red cap decorated with black lace and golden star ornaments. Her top covers her breasts and leaves her midriff open. She wears a red half-skirt with a dark drapery around her hips, and black stockings, finishing with black slippers. It makes her seem like a gypsy (this is no surprise as she is called the Witch of Elrit Forest and that gypsies are often accused for using witchcraft).
She also has fairly long, blond hair as revealed when she was held captive in Titania.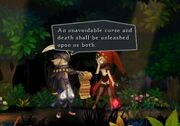 Velvet and her twin, Ingway, are the illegitimate children of the Valentinian Princess, Ariel, and the Ragnanival King, Odin. When Ariel's father, King Valentine, found out about his daughter's affair with the enemy king, he went insane, hating the daughter he so loved before.
Sometime during the young life of the twins, they rejected their mother in front of their grandfather (unknowingly saving their lives from his wrath if they said they loved her), reducing Ariel to tears. The twins initially thought that she was weeping in grief, but Velvet later thinks she was crying tears of joy, not sadness, glad her children were choosing life over death.
Valentine eventually strangles his formerly beloved daughter to death, possibly furthering his madness.
Even with the knowledge that they rejected their mother, King Valentine did horrible things to his grandchildren that we are never fully told of. Velvet is still terrified of him years later even with her strength and Psypher, Graveryl. Graveryl was originally given to Ariel as a gift, then given to Velvet by Ingway after her demise. Graveryl was the very first Psypher created by the Crystallization Cauldron.
After the great destruction of Valentine, she resided in the Elrit Forest, making herself known as the Witch of Elrit. She spent her time tracking down scrolls that foretold Armageddon: the end of the world. She thinks her best bet would be to journey to Winterhorn Ridge to ask the great dragon, Hindel, for help in her quest...
Velvet is first seen in-game talking to Hindel. He sees the end of the world, and informs Velvet that his time on the earth is almost up since a Black Knight is going to kill him. Velvet -naturally- is in shock that Hindel says he will be killed shortly. She then tells him that she is going to try and stop the beginning of the end of the world.
Velvet then travels to the Netherworld, looking for the scrolls that foretell Armageddon. There, she runs into Skuldi, one of the three Wisemen. With his help, she finds King Gallon. Gallon gives Velvet the scrolls contained in his rotting body, telling her to seek out the rest of the psalms, but due to his laughter, he attracted the attention of Queen Odette, who grows furious that the granddaughter of King Valentine is in her dominion. Velvet defeats Odette in a fierce battle, but is surrounded by the Halja. Demon Lord Odin intervenes to save her life and briefly chats with Odette. Despite her protests, Odin escorts Velvet to the Netherworld exit, where Skuldi, who was listening in, vanishes to tell Beldor and Urzur the fact that Velvet is Odin's daughter.
During the Armageddon, she attempts to reason with her grandfather but to no avail. After a hard battle, she stops the Cauldron without destroying its core, fainting in the process. King Valentine is about to kill her, but is stopped by a vision of Velvet's mother induced by the great likeness between Ariel and her daughter. Instead of killing Velvet, King Valentine releases Leventhan into the skies.
Velvet uses Graveryl as her weapon, a dual edged Psypher chain. She is able to chain multiple combos on one enemy, thanks to her dance-like movement. She is also the weakest character in game with the fastest Psypher growth. Her unique attack that she is able to generate her chain to search the target and hit it, an instant death for her foes. She has a wide variation for her attack, most notably her ability to 'stretch' her chain and her ability to track down foes.
Different to other characters, Velvet can swings around the area. This is probably due to she resides in Elrit, and swinging around the trees would be the most convient way to travel.
She also excels in mid range battle, with her abilty to swing around.
Velvet bears a trait being the eldest daughter: Mature, independent, and conflicted.
Her name seems to be inspired by Atlus' famous title, 'Shin Megami Tensei: Persona 3' in which the game features a facilty named 'Velvet Room' for the fact Odin Sphere is developed after Persona 3.
Velvet is another name for soft, dark shaded blue color.
v

·

e

·

d
♦ Playable Characters ♦
           var fctb_tool=null;
           function FCTB_Init_340d53ab594441bfa8ba08b3f24c7362(t)
           {
               fctb_tool=t;

start(fctb_tool);
           }
           FCTB_Init_340d53ab594441bfa8ba08b3f24c7362(document['FCTB_Init_2df2ce4363b54986aff98affcb22fbb3']); delete document['FCTB_Init_2df2ce4363b54986aff98affcb22fbb3']